The USA Government BORROWS 1 Million Dollars a minute. They borrow 700 Billion Dollars a Year. They currently owe 21 TRILLION Dollars, much of which is eaten up the the USA military's War Machine. So stop wasting money attacking Innocent Civilians and Innocent Targeted Individuals you morons!!
Great News!
Targeted Justice (TJ) has been working hard to bring awareness of what a TI is, the fact that we exist and that the technology exists, to as many people as it can, in a way that non-TI's will be curious enough to check out websites and find more information out about us. Their hard work includes developing a brand, researching how people would react to their campaign posters and billboards, finding great sites for those posters and billboards, negotiating a good price for the locations, and generally working as hard as they can to help us all, while often still being attacked as much of us are.
Targeted Justice does not generally ask for financial assistance, but in this case, I think that if you are able to, then please consider donating money towards the poster / awareness campaign, especially if you would like a poster or billboard near your location. You can give money here:-
Examples of their great work shown below :-)
​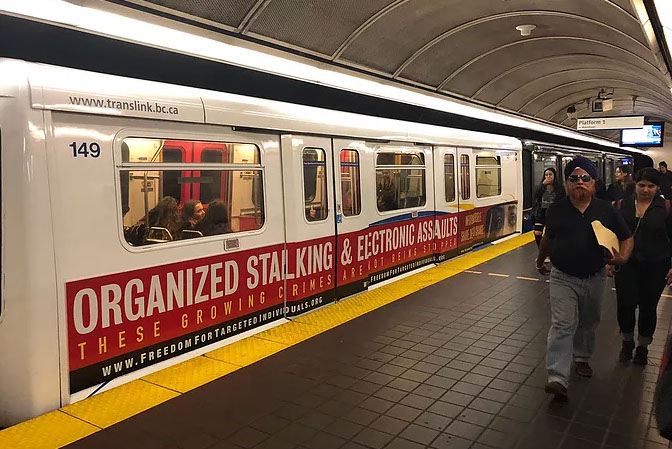 Two-sided train wrap on an Expo Line SkyTrain in Vancouver, BC, Canada (photo by Lamar, Aug. 2, 2018).
​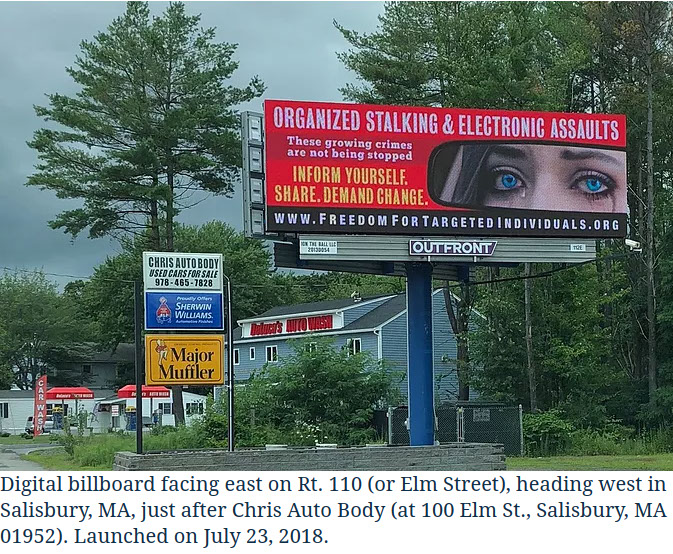 ​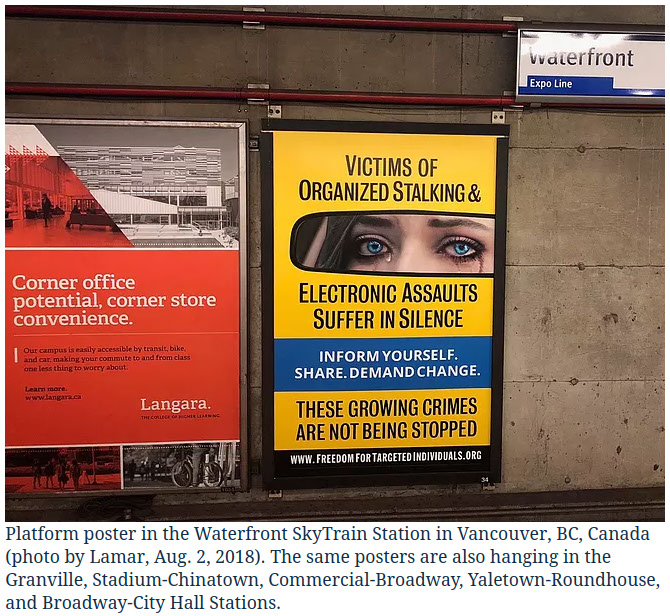 There are other posters and billboards out there, with many more on the way. If you are wondering if their is one near you, then please visit Ella's website, https://www.freedomfortargetedindividuals.org
You Need To Know
​
​Scientific Research PaperSearch Engine ​

​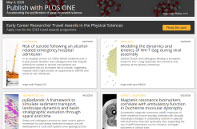 ​InstructionsMillions of people are being attacked by government sponsored Neuro-Weapons, Voice-To-Skull, Microwave Auditory Effect and DEW's (Directed Energy Weapons) every day, using implants and microwave frequency weapons. The people being attacked are know as "TI's" or "Targeted Individuals". Gang stalkers, known as "perps", are used by these same security service organisations, military personnel and criminal gangs to also cause psychological torment to their targets. TI's are running an awareness campaign to try to educate the public so they know the truth about what the USA, UK, Japan and European governments are wasting your TAX payers money on, the corruption involved, misinformation involved and the false flagging of innocent civilians as terrorists and perverts, as a way for the security services and private security companies to increase their funding via illegal means.
People on the whole, are very easily led by gossip and rarely question it's authenticity especially if the person they talk to flashes an official looking card, or wears a uniform. As an example of how stupid the general public is, please read this:-
Welshman attacked by racist yob who wrongly thought he was an immigrant because he was wearing a Russian hat.
Their are a number of brave souls who are working hard to bring these illegal government sponsored practices to the eyes of the general population. If you are able to, please be one of them.
If you are a military person, or ex military, you should be made aware that they have been experimenting on military personnel, without your consent, for decades. Now is your time to protest.
V2K or voice to skull, using the microwave auditory effect, was made famous in the Iraq war, when the American's used it to capture combatants, making them hear 'The Voice Of God' in their ears, telling them to put down their weapons and co-operate with the American's. Soon after the American military made the announcement as a way of showing off, 'oh look how good our technology is etc.' , they pulled the pages from the Internet, realising they'd just given away one of their biggest secrets. The CIA often removes pages after blabbing. They forget, many people make many copies knowing sources will be removed at a later date.
_____________________________________
MAJOR NEWS RELEASES
News reports released by MAIN STREAM MEDIA, that indicated they know what is going on with this evil technology. Surprisingly, this does sometimes occur.
My personal belief is that what is actually happening in the American embassy's, is the usual CIA dis-information black-ops program. The CIA has been caught, on multiple occasions, attacking and killing their own people in an attempt to draw negative press towards other countries; a deflection tactic. Hell, they even helped to kill their own president, so they sure don't care about anyone else.
LATEST - New York Times - Microwave Weapons Are Prime Suspect in Ills of U.S. Embassy Workers
1. Cuban 'Sonic' Attacks On American Diplomats
2. Attack on American Diplomats in China
3. Accidental release of Papers via Fusion Centre
_____________________________________
Remember that the only way to beat this thing, is to educate the public, before it becomes too late for all of us.
​
​Dr. Terry Robertson and Dr. John Hall discuss the history of non consensual experimentation done by the CIA and other governmental groups Part 2 of 2.
​Gang Stalkers If you are a gang stalker, please apply for a job, using the job application, here.